"Science is for everyone"
November 23, 2020
Interview with Erik Németh brain researcher, student of Pázmány FITB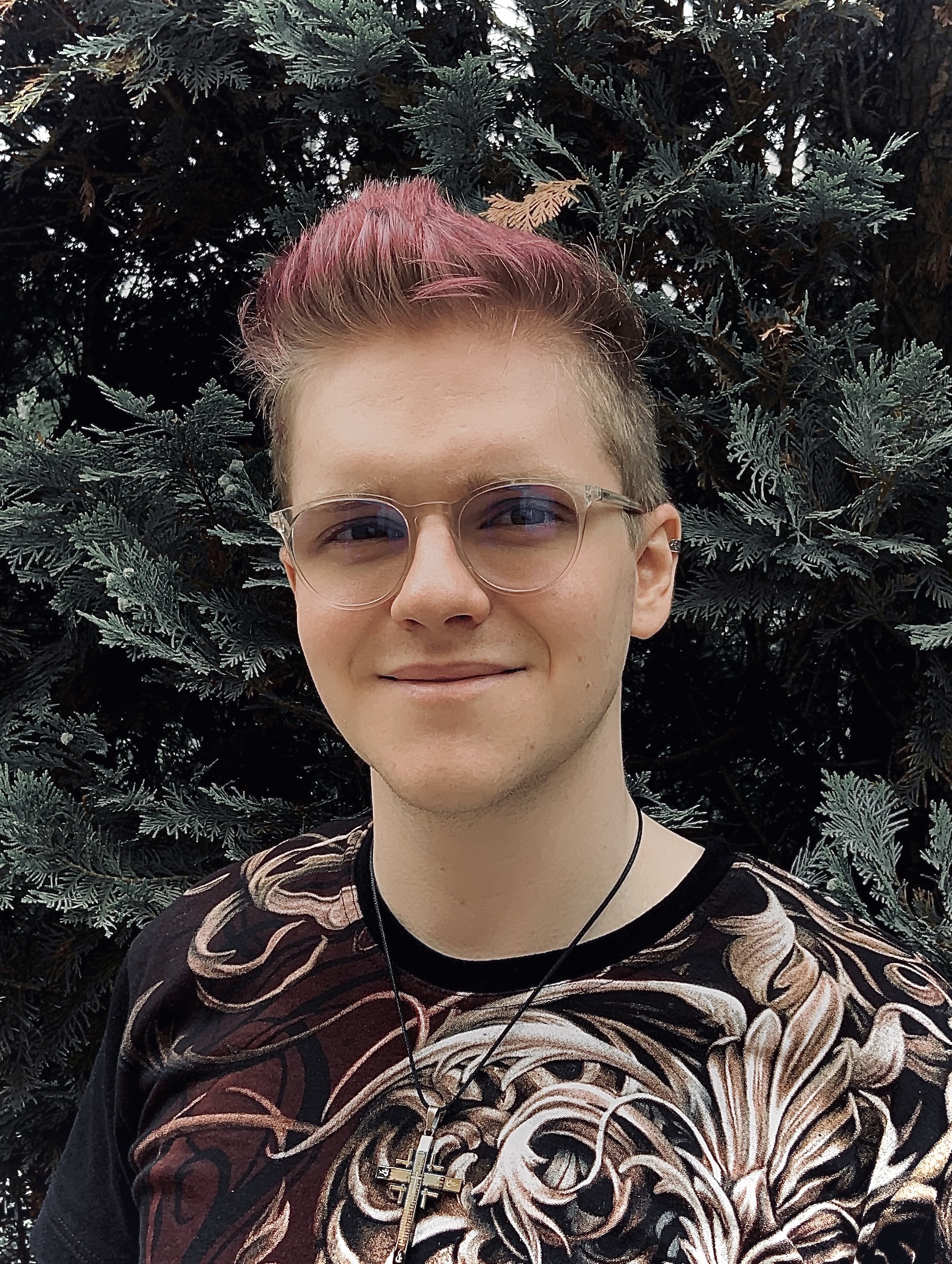 Erik Németh studies Info-Bionics Engineering MSc Pázmány FITB. Besides his university studies, he works in a brain research laboratory in Lyon, France. Erik is not the typical brain researcher we usually imagine: he admits to be impatient, loud, somewhat impulsive, with a profound enthusiasm about a lot of things, who lets cartoons play a decisive role in the important decisions of his life. The first runner-up of FameLab, the world's leading science communication competition wants to show the world that science is for everyone. We asked him about his studies, research, and plans.
When and how did you first become interested in brain research?
I remember clearly how practical of a kid I was in my kindergarten years. During the book fairs, I was the one buying all the volumes nobody wanted. The ones about the secrets of the human body, or the mysteries of space, once I could even put my hands on a volume about genetics for kids. There was no doubt that I would become a scientist. The eccentric Miss Frizzle in the Magic Schoolbus series made sure of that. But to address the exact time I cast my final vote on brain research – it's hard to tell, really. For quite a while I struggled figuring out what field of science I could see myself in, and even during my years at college I had to play a game of trial-and-error to eventually see what tickled my fancy. You can imagine my surprise at a primary school class reunion where one of my former classmates' father asked me jokingly: 'Have you become a brain researcher as you had promised in third grade?' To that I could only answer with a wide grin.
Why did you choose Pázmány FITB for your studies?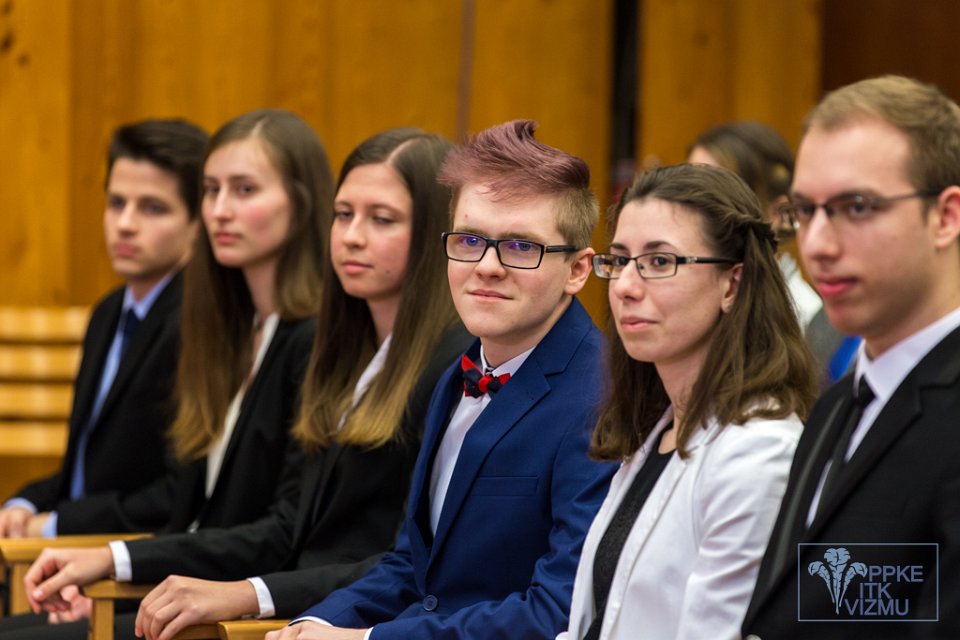 Finding a university to apply to was a pain in the back for me. I knew I wanted to work in the field of biology, but I didn't see myself as a doctor. I wanted to study IT, but I could never imagine myself as a programmer. I always loved Physics, especially modern engineering solutions, yet I never believed that I'd enjoy a regular engineering course. I couldn't make up my mind, I kept stalling and stalling until the day before the application deadline came. Me, being a mature young adult that I am, went to the cinema that night to watch Big Hero Six. (It's funny how cartoons are becoming the recurring motive of this interview.) The movie was about this young boy studying robotics at a fictional university – and I instantly knew I had found my call. On my way out I was already googling vigorously, and the first result was none else but Pázmány. Not robotics, per se, but something even crazier: bionics. I couldn't believe my eyes. I had no sleep that night. I read up on the amazing world of bionics and all the opportunities Pázmány could grant me. Without hesitation I can say that my life was changed that day. By the time I visited Pázmány on the Open Day, I had no questions in my head anymore.
In what way did your studies at Pázmány University contribute to your research work?
I am thankful to Pázmány in more than one way. First of all, I must say that the campus really felt like a home away from home and the Faculty became my second family – I know it's cheesy, but it's true. There's just something in the Pázmány-way of teaching that caught me: the way we study isn't that of a classical engineer, but it's not completely theoretical either. We learn mathematical modelling thoroughly – in more detail than I could ever have imagined – but at the same time we do build circuits and purify proteins in the lab, too. I have received positive feedback from my boss quite a few times on my mathematical or biological insight, and I must say the credit goes to Pázmány for that.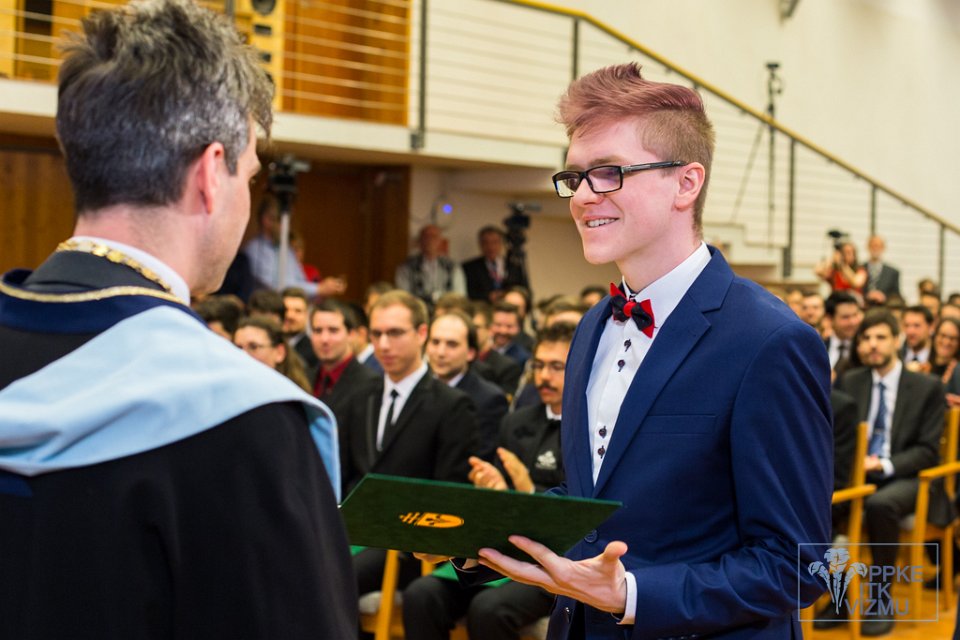 When it comes to my classes, I wouldn't want to pick any favorites. I don't want to choose a subject or a lecturer over the other as all my subjects were needed for the greater picture. Yet, on the account of my professional work, and strictly that, I might answer who made the longest-lasting impressions on me. As I said before, our mathematics curriculum is astonishingly thorough. The consultations of Dr. Ágnes Bérces and her constant support were a huge inspiration. Similarly, the classes of Dr. Zsuzsanna Gerencsérné and Judit Várdai are real gems. As for my research, I was provided a solid basis in biology upon which I can build my work. Dr. Mónika Lippai gave us an unforgettable insight into the inner workings of a cell. But my biggest push was that of Dr. Imre Kalló and prof. István Ulbert, who both taught me different aspects of neurobiology. And last but not least, computer science. I would like to thank Dr. Miklós Koller and Dr. Csaba Benedek, without whom I would have never found out the beauty of computer science. IT gave me a completely new perspective, allowing me to look at brain functions in a different way. A turning point in this process was two subjects of Dr. Kristóf Karacs, AI and Machine Learning, which helped me finally grasp the power of statistics in learning. Finally, I would like to thank Dr. Anna Gergely, who is not a professor of our faculty, yet without her classes on ethology I wouldn't be where I am now.
What extra opportunities has your participation in the Faculty Talent Program provided to you?
The Talent Program is technically a "FITB VIP". I was granted the opportunity to a limitless stream of classes, guaranteed place in the most popular practical classes and a lot more. It made the Pázmány-experience even better, if that's possible. No wonder that I took more than an extra semester's worth of optional classes during my Bachelor's program.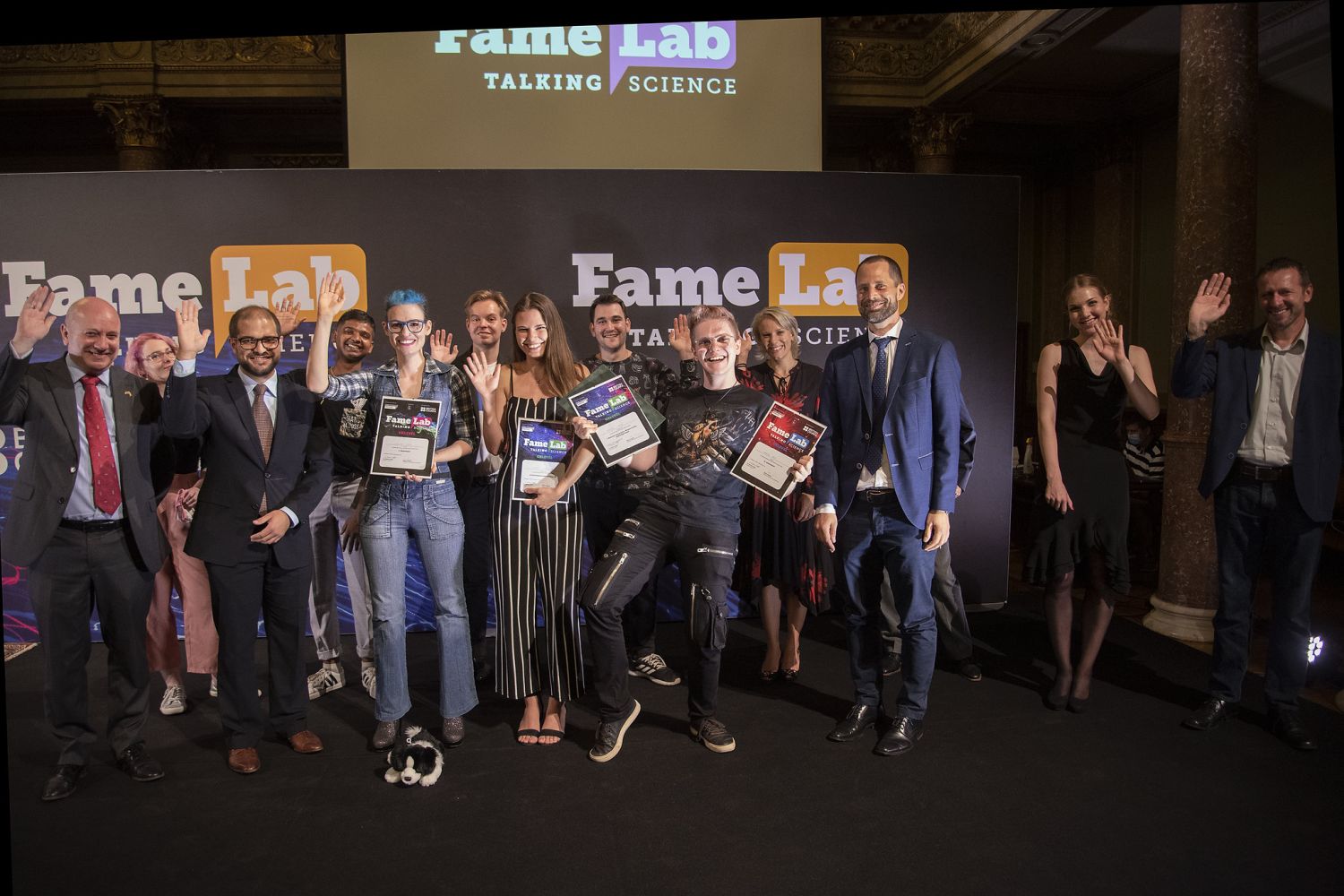 Recently, you were the first runner-up of the Hungarian Academy of Sciences at the FameLab competition, also receiving the Special Prize of the National Geographic. Can you tell us about the competition and your presentation?
FameLab is a leading international competition on science communication. It was originally organized in the UK, but as of right now scientists form more than 30 countries can compete with each other for the grand prize. The competition this year consists of 4 rounds. The Hungarian semi-finals were held online, and the winners were granted a masterclass in the beautiful mountains of Mátra. Needless to say, it was unforgettable. As for the Hungarian Final, it was organized by the Hungarian Academy of Sciences (MTA) and the British Council in the MTA headquarters. Here I presented my talk "A Brain Researcher's Guide to the Gray Matter of AI"—or would have presented it anyway hadn't my prop gone haywire. My plan was that I would casually converse with a rather sarcastic disembodied robot voice with whom I would introduce the audience to the idea of artificial neural networks. These biologically inspired computational models enabled the quick development of modern algorithmic solutions from automatic face recognition through movie recommendations and self-driving cars to the almost scary deep fake, and more. But of course as a funny twist of fate, my disloyal companion walked out on me forcing me to ad-lib my presentation from the beginning to the end. By the time I finished, my anxiety was replaced by the certainty of having lost my one chance at winning, so I wasn't worried too much. You can imagine my surprise when I was given not one, but two prizes in the end.
This year's Hungarian winner by the way is Kata Vékony, whose enthusiasm, energy, humor and professional insight blew us all away. She will represent our country in front of the jury of the international rounds – unfortunately, of course, only virtually.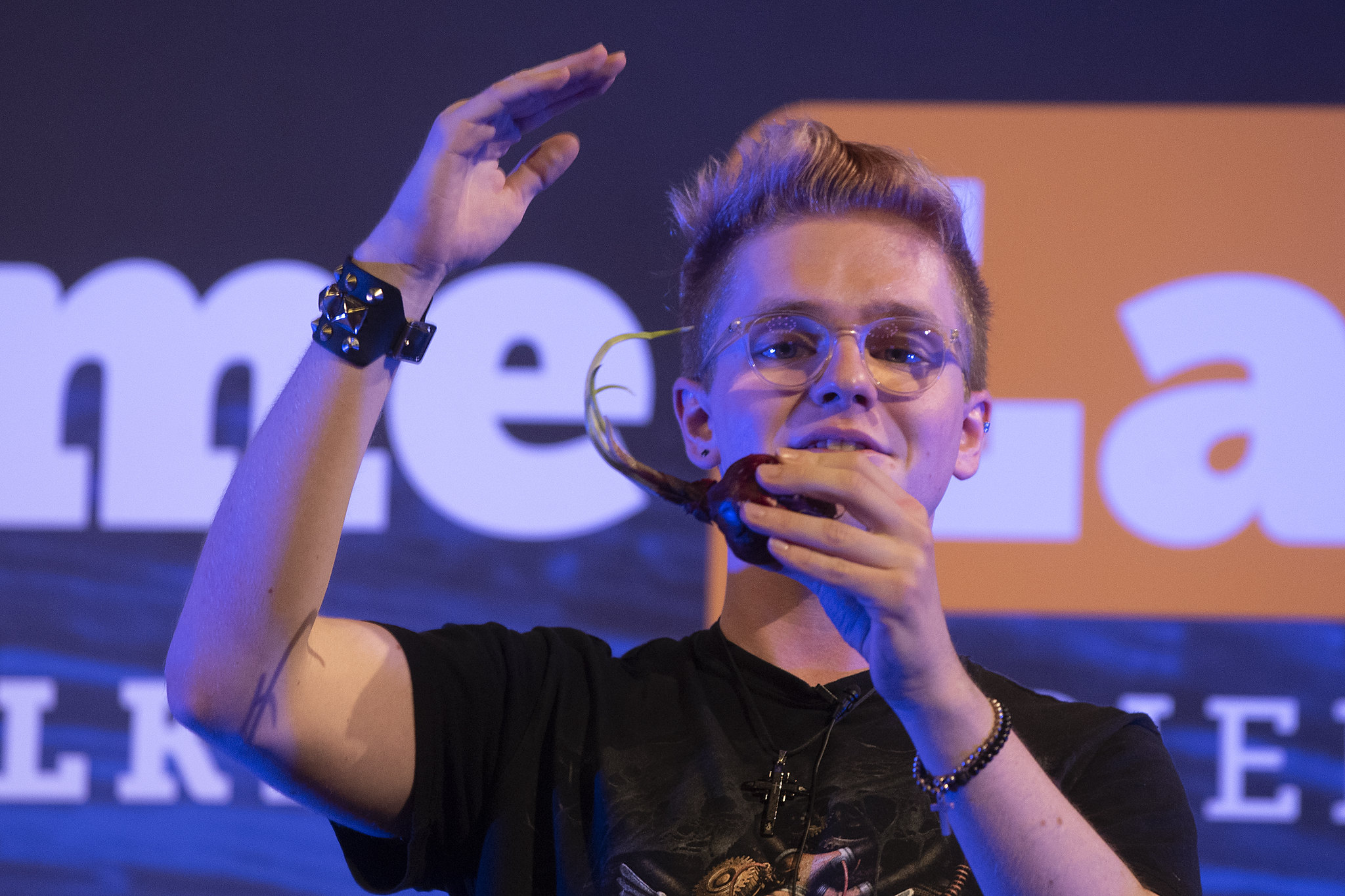 What attributes do you think are required to become a good researcher?
This question put a smile on my face. If you had asked me five years ago, I would have answered something along the lines of 'researchers are patient, quiet people, who are always orderly and never unprofessional'. Now, let me tell you this: I'm everything but those things. I am impatient, loud, somewhat impulsive and I let cartoons decide my fate (I've warned you it would be a recurring theme). And yet here I am, living my dream. What's the secret? Passion, I think. I can't see myself outside of science – it's just impossible. I wake up as a scientist, go to bed as a scientist, even watch cartoons as a scientist. It's a way of thinking I'd say.
What is your dream as a researcher?
To begin with, my life as the student of Pázmány will come to an end in six months. It's a bittersweet thought, really, I will miss the Faculty and everyone there gravely. It is especially sad that, due to the pandemic, I have to spend my last semesters away from the campus.
I am nonetheless hopeful that I can spend my last semester in Lyon where I can wrap up my research. I am hoping to write my thesis based on it by the end of spring. In the meantime, I would like to invest my prize provided by MTA, received for the second place on FameLab, to create a YouTube channel and show the world that science is for everyone.
As for the upcoming years, I have several different scenarios in my head. I would like to travel, and I have already found some very attractive scholarships for postgraduates. I would like to acquire a PhD as well, although I don't know the exact topic or place yet. Honestly, if I manage to do everything I have imagined, I won't run out of projects for at least the upcoming ten years
Pictures: Németh Erik; PPKE VM Stúdió; mta.hu/Szigeti Tamás