Greetings by the Dean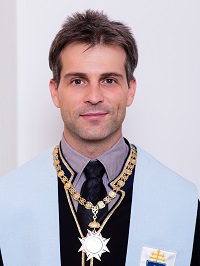 Bionics is a new field where life sciences, electronics and computer technology meet. New inventions and services are being designed and developed, including fMRI, lab-on-a-chip devices, prostheses and body-machine symbioses, such as pacemakers or neuro-stimulators in the brain. This is a brand new world in which we are laying down the foundations for a special field that will pave the way for a new industry.
Following the ideas of the late Professor Tamás Roska, the founding Dean of our Faculty, around twenty internationally-renowned researchers developed an innovative Electronic and Computer Engineering curriculum with a hint of neuroscience, which later expanded into an independent Molecular Bionics Engineering program.
Along with Imperial College London, PPCU was the first university in Europe to offer the study of this new interdisciplinary field at the undergraduate level.I invite you to visit us and enroll in one of our computer science or bionics programs. You will find an environment that is both professionally and personally inspiring, and I am sure you will return with knowledge and memories that will benefit you for a lifetime.
Dr. Kristóf IVÁN, Dean
Updated: 30-06-2020